Eric Pfeifer and Nicole Decker McHale are a common sight here on Sanibel Island as this auction duo has donated their time and talent to many non-profit events.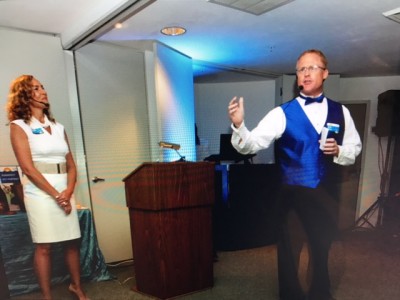 Their most recent appearance was at the Bailey Matthews National Shell Museum's Under the Sea Gala.
With over 60,000 visitors to the Shell Museum every year, this National treasure is the only place like it in the world. Their educational programs serve thousands of school children a year and now with the addition of their traveling tank, they can take living mollusks directly to local schools. Our Shell Museum is a national treasure in our own backyard. Thanks to the many individuals who keep the doors open and the public educated: Dorrie Hipschman (Executive Director), Jose' Leal Ph. D. (Curator), and their incredible Board of Trustees and Volunteers.
Education helps us all to understand the fragile balance in nature that must be maintained so that even the smallest of creatures can thrive in the World's oceans.
2018 Live auction items included:
Cips deck party for 25 people with unlimited Appetizers and Wine,
Sweet Melissa's 5 Course Dinner for 8 People,
Catered Dinner in your home for 8 guests and Chef Carl from Sanibel Catering Company,
Beach Walk and Champagne Brunch at the Island Inn,
Fishing Trip with Chris and Becky Davison, Pearl Party for 10 Guests,
A Seascape Painting Done During the Evening,
Giant Mystery Box of Shells hand selected by Jose' Leal.
2017 Live auction items included:
An in home 5 course dinner and wine parring for 6 people catered by Bailey's Chef donated by Richard Johnson. This item was so popular that Richard doubled the item and offered to do the dishes too!
Another fabulous item was a Personal Pet Portrait painted by long time Bailey Matthews Shell Museum supporter Kim Nealon.
The 2017 and 2018 live auction item titled a "Mystery Box" of shells went to Mary Ellen Pfeifer. So when your husband is the auctioneer you have to wonder if this was fare? In 2017 Mary Ellen told Eric she was not leaving without the shells.
During the 2018 event, Jose' Leal let Mary Ellen know that should she be the high bidder once again that he wuold swap out any duplicated specimens. Yes, once again Mary Ellen decided she could not leave without the shells.
Learn more about Mary Ellen's Shell Obsession.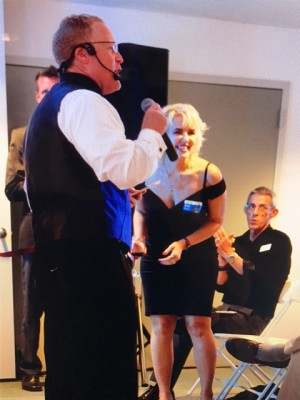 What was in the mystery box? The best prize of the evening: A hand picked selection of shells by Museum Curator Jose' Leal. Each shell was boxed and labeled with it's Latin Name and Date. If you go next year, plan on more stiff bidding competition should another "mystery item" go on the auction block.
FUN FACTS: In 1984 Charlene McMurphy, an avid local shell collector on Sanibel Island sparked the feasibility study of the the Shell Museum with a $10,000 bequest. On July 7th, 1992 the Groundbreaking ceremony was attended by William Hallstead (President of the Board of Trustees), Mr. Raymond Burr (Actor and Campaign Chairman), Dr. R. Tucker Abbott (Founding Director and Author), and Robert Benevides. Following Tucker Abbott's suggestion, the foundations name was changed to "The Shell Museum and Educational Foundation". In 1996 Dr. Jose' Leal started as the Science Director and Curator. In 1997 the Shell Museum became the publisher of the Nautilus (a malacological journal in print since 1886) with Dr. Leal as the editor of this worldwide scientific journal. Dorrie Hipschman became the Executive Director in 2014.
How you can help the Shell Museum and get involved. Did you know that their are over 100 Shell Ambassadors who volunteer their time and knowledge every day on the beach? What do they do? After passing a one-training session showing functional knowledge of our local shells, and the beach ecosystem, these shell experts adorn their official Bailey-Matthews National Shell Museum apparel and hit the beach armed with good will, sunscreen, and lots of answers for visitors.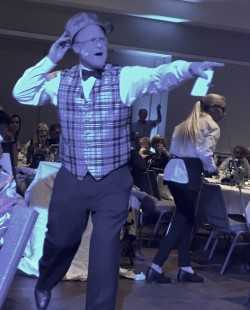 Did you know that most visitors to Sanibel and Captiva do not know that Shells come from living animals? If you want to change this, contact the Shell Museum and register to become an Ambassador! Call them today: 239395-2233
Where will Eric Pfeifer and Nicole Decker-McHale show up next? Their next event will be at the Sanctuary Golf Course Club House to help F.I.S.H. of Sanibel and Captiva raise money for families in need here on the islands. What will they be doing? Well, that's a well kept secret for only those who attend. Here's a hint... the theme of the event is "The Wizard of Oz". If you love shells, be sure to attend the Annual Shell Fair Festival
View All Sanibel Island Events