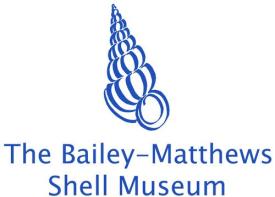 Known as one of the best spots in the world for collecting seashells, Sanibel has attracted shell collectors from around the world to its shores. To gain perspective and appreciation for the vast array of shells found on Sanibel and Captiva Islands and around the world, a visit to the Bailey Matthews Shell Museum is a must.
The museum has displays that show how shells have been used in history for money, tools and adornments. There are a wide variety of Sailors' Valentines along with other forms of shell craft. You will also see one of the largest Gastropods as well as some of the smallest. The study of the creatures that make these shell is called Malacology and the study of the exoskeleton or hard shell is called Conchology. Sanibel Islands shape and orientation to the mainland of Florida account for the vast numbers of shells that are deposited daily by the tides.
Some of the most prized finds on the beaches are the rare Junonia a member of the Volute family, Lion's Paw and the Alphabet Cone with markings that look like written letters. For those lucky enough to find these shells a picture in the local paper is a must. Some of the best times to look for shells on Sanibel are following large storms and always at low tide. Low tides on the island are always filled with great finds. Live starfish, Fighting Conchs and playful hermit crabs are common finds. In the shallow waters you will find Live Sand Dollars, Horse Conchs, Lightening Whelks, Banded and True Tulips as well as Sharks Eyes And Cockles. LIVE SHELLS must never be taken from the beach. There are plenty to be found that don't have the animals in them. Always check your collected shells for hermit crabs before you leave the beach and take care to return them to the water. When you encounter a live shell place it Bach where you found it or gently return it to the water. Throwing the shells can injure the mollusk. Keep in mind that Sand Dollars can't turn themselves over, so place them back in the sand right side up so that they can survive.
To learn even more about our island shells, schedule a Daily Beach Walk that leaves from Island Inn with informative Marine Biologists, and for more adventurous shell collectors, be sure to join the world renowned Marine Biologist Dr. Jose' Leal on his monthly beach walk at Bunche Beach.
To identify your new shells, visit the Bailey Matthews Shell Museum gift shop for comprehensive shell guide books and be sure to visit their website www.ShellMuseum.org to learn more about the shells is Sanibel and the world. Every year avid shelters from around the globe flock to the Shell Fair, a four day festival that celebrates shells, shelling and shellers!
Annual Shell Museum Events Include:
Related Articles: