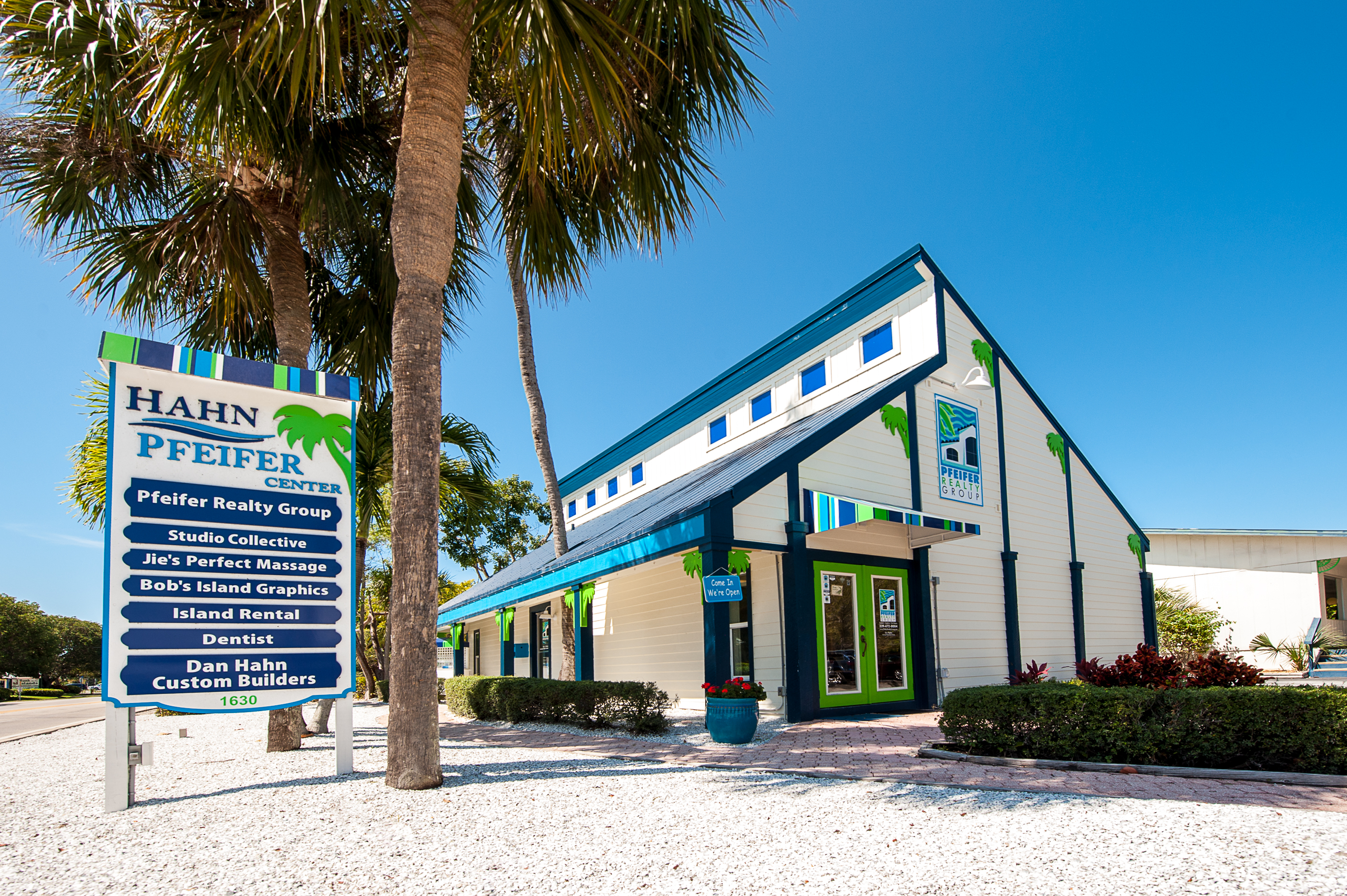 Pfeifer Realty Group
Founded in 2008, Pfeifer Realty Group was created in response to clients looking for an alternative to large corporate structured real estate brokerages. Recognized and awarded for his local community service, and passionate about real estate, Broker-Owner Eric Pfeifer has been a trusted advisor for over 17 years helping families achieve their real estate goals.
Pfeifer Realty Group celebrates its 10th anniversary this year. On April 8, 2008, Eric and Mary Ellen Pfeifer took a huge leap of faith and opened their now-popular boutique realty firm that sits on Periwinkle Way between Dixie Beach Boulevard and Casa Ybel Road. "I had been with VIP Realty for six years, when we decided to take the plunge," Eric said. "We were interested in building a smaller company that was non-corporate and franchise free."
The couple was not averse to high-risk ventures. They decided to move to Sanibel without benefit of jobs or financial security. "Every year, from the time I was seven years old, my family vacationed here," Mary Ellen said, "so it was important to my childhood. We knew that Sanibel would be the best place to raise our children, so we moved to the Island and never looked back."
Eric, who is trained as a civil and environmental engineer, got started in the realty business with an assist from Chuck Andrews, then a Realtor at ReMax, who sold the Pfeifers their first Island property. "While we were looking at how we might fit into the community, Chuck asked me to help out in his office," Eric said. "My experience working for him prompted me to get my license and jump in head first."
Pfeifer Realty Group began with a team of four Realtors, including Eric. "It was stressful," Eric said. "We had just invested in a new home and a new business in a declining real estate market—but failure was not an option."
Ten years later, the Pfeifer Team has tripled in size, with 12 Realtors and 6 Client Care Specialists on staff to manage the firm's diverse array of properties and services throughout Southwest Florida.
Complementing one another's skills and talents, Eric runs the buying and selling component, and Mary Ellen is in charge of marketing. "I handle the back end of the business, and Mary Ellen handles the front," Eric said. "Mary Ellen makes the phone ring and the emails come in."
Mary Ellen is also chief guru for the team's award-winning website and state-of-the-art technology systems. "Real estate technology is continuously advancing. Customers used to rely on the Broker to understand the market and locate properties. Now, they get information from the internet and large website portals, then ask us to facilitate transactions," Mary Ellen said, adding, "We have to be nimble."
A smaller agency, with an average portfolio of approximately 40 properties, Pfeifer Realty Group distinguishes itself, by providing 24/7 responsive service to each customer. "We build relationships with our clients," Eric said. "We represent our clients and protect their interests, and most of them become our friends."
Over the years, both Mary Ellen and Eric have given back to the community that has given so much to them. Formerly a member of the Children's Education Center of the Islands board, Mary Ellen is currently on the boards of the Sanibel-Captiva Conservation Foundation and the Charitable Foundation of the Islands. But her greatest labor of love is sponsorship of the Pfeifer Documentary Series, a collection of Sanibel films directed by the Emmy-award winning filmmaker David Carter.
Mary Ellen and David began with "Growing Up on Sanibel," which premiered in 2014 at BIG ARTS' Schein Hall. "Between the film's screening and an auction of art prints taken from the film, we raised large sums for charity," Mary Ellen said.
The success of that first film inspired four others, "7 Sanibel Artists," "Sanibel Before the Causeway," and two "Post Cards and Photos from Sanibel." "One hundred percent of the proceeds for screening these films went to Island non-profits," Mary Ellen said. "Our next step is to allow these organizations to show the documentaries into perpetuity, to support their important efforts."
Eric has served as President of the Sanibel-Captiva Kiwanis Club and as a member of the Parks and Recreation Committee. He was also founder/commissioner of Sanibel's Flag Football League and commissioner of its Little League.
A Past President of the Sanibel and Captiva Islands Association of Realtors, he won that organization's Community Service Award five times, and he was named the Chamber of Commerce's 2016 Citizen of the Year.
Eric appeared in the Community House's Dancing with the Island Stars in 2011. "I did break dancing," he said. "It was a hoot."
This Article was written by Jan Holly for the Santiva Chronicle.