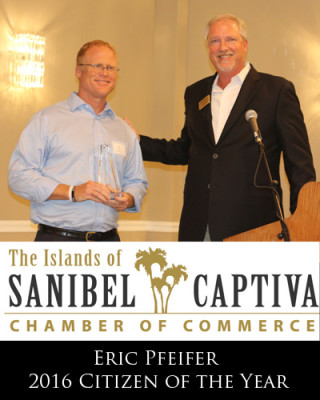 At the annual meeting of the Sanibel Captiva Chamber of Commerce at the Sundial Resort, Board Members and Volunteers were recognized as well as their award recipients.
Eric Pfeifer, Broker/Owner of Pfeifer Realty Group was named Sanibel Captiva's 2016 Citizen of the Year in recognition of his tireless service and involvement in supporting the island community. Roasted by Chris Heidrick, Eric was reminded that when he ran for Sanibel's City Council, and lost it was a great benefit to the Islands overall. Eric's time instead of being taken up primarily in governmental service, was channeled into support of all non profits serving the island community.
Baltimore native, Eric Pfeifer holds an Engineering Degree from Vanderbilt University as well as a Contractor License in the State of Florida. Wanting to raise his young children in a small community, Eric moved to Sanibel in 2001 with wife Mary Ellen, 2 year old son John, and 3 year old daughter Darby. His community involvement began quickly as he started the Sanibel NFL Youth Flag Football League, and became the Commissioner of both Flag Football and Little League Baseball for many years. As his kids grew, Pfeifer's commitment to community service did too. From Celebrity Waiter, to Dancing with the Island Stars to serving as the 2015/16 President of Kiwanis here on the Islands, Pfeifer's dedication to serving the community benefits many. Most recently Pfeifer was named "2015 Realtor of the Year" and also received the "2015 Sanibel Captiva Community Service Award" for a fifth year.
"Giving back to the island community is a something I enjoy on a personal as well as professional level" said Pfeifer. "Every day, I strive to set an example for my children and hope that one day they will have the opportunity to also live where they love, and love what they do. I truly am blessed to be a part of the Sanibel Captiva Community and call these islands home." said Pfeifer.
Past Citizen of the Year Awards have gone to many worthy recipients including Richard Johnson of Baileys General Store and Doug Congress for his work on City Council to name a few. Blue Rendez Vous, and owners Chef Christian and Mari Vivet took the award for the Best New Business on the Islands. Bob Walsh, Owner of Walsh Landscaping was named Best Business Man of the Year and Holli Martin, was named Volunteer of the Year. Read more in the Fort Myers News Press.
Read the Full Islander Newspaper Article
Eric Pfeifer's Move to Sanibel Island