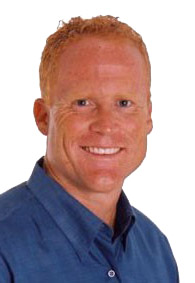 For the forth year in a row, Eric Pfeifer, Broker of Pfeifer Realty Group was selected to receive the Sanibel and Captiva Islands Association of Realtors' Community Service Award by fellow Honor Society Realtors and Brokers here on the islands.
Each year this award is presented to the Agent or Broker who actively volunteers their time and talents in many areas throughout the island community. Pfeifer's dedication and commitment to Sanibel's youth sports programs has benefited children throughout our community for many years. In 2003, Pfeifer started Sanibel's first NFL Youth Flag Football League and he continues to coach and organize this sport today. After 10 years of coaching youth softball and baseball, Pfeifer took over as the Commissioner of Sanibel's Little League program in 2009. In 2011 Eric donated his time and energy as a performer in "Dancing with the Island Stars" to benefit the Sanibel Community House. Pfeifer remains an active Board Member of the Sanibel Captiva Kiwanis Club, and the Shell Harbor Home Owners Association. This year, Eric helped to promote Shellabration and organize the Guiness Book of World Records "Sanibel Stoop" to celebrate the 75th Anniversary of the Shell Fair.
Pfeifer will continued his support of the islands with the launch of his 2013-2014 Documentary Titled "Growing Up on Sanibel" which correlates with an Ads as Art Campaign titled: "Sanibel is..." a 10 month advertising campaign that builds awareness of why we love Sanibel. Each Ad as Art one of a kind canvas will be auctioned and all proceeds will benefit the island non profit organizations that support conservation and preservation. Another documentary "7 Sanibel Artists" was sponsored by Pfeifer Realty Group and raised more than $20,000 for local non-profits.
Pfeifer Realty Group is working on the 2016 debut of the documentary "Sanibel Before the Causeway" a look back in time with the help of rare black and white footage not seen before by the public.
Additionally Pfeifer Realty is also working on another documentary devoted to the history of Sanibel Captiva Conservation Foundation to help celebrate their 50th anniversary in 2017.
Pfeifer Realty Group's Continued Community Service - LEARN MORE