The Sanibel Captiva Optimist Club's Annual Road Rally is an island tradition that provides good old fashioned fun for everyone. The first Road Rally was in 1979, making this event the longest running 4th of July celebration on the islands.
Right after the Sanibel Captiva 4th of July Parade finishes, road rally team cars begin gather in the Timbers parking lot for this unconventional scavenger hunt. But don't be fooled by what may seem to be a simple quiz. With more than 100 questions, driving directions, and specific tasks to be completed, without backing up, stopping or getting out of your can unless instructed to do so, this isn't your run of the mill event. Some spouses even join different teams to keep their marriage in tact.
Having participated in the Road Rally only 4 times, Eric and Mary Ellen Pfeifer have learned it's best to have as many people in the car as possible. One year the Pfeifer Team rented a Trolley to tackle the hunt and still didn't win.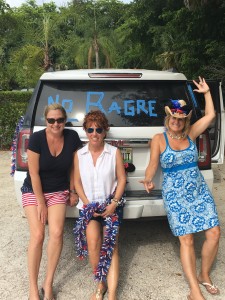 However, 2016 was Eric Pfeifer's lucky year as he won the 50:50 Cash Raffle Prize of $257 Dollars. Now what would you do with that money? When it's a fund raiser for the Optimist Club (a Sanibel Service Club) and you are the President of Kiwanis another Sanibel Captiva Service Orgianization, what should you do? Well that dilemma didn't last long for Eric. He donated $256 Dollars back to the Optimist Club only if they would write "Kiwanis is the Best Service Club on the Islands" on the remaining dollar. Eric then gave this "Happy Dollar" to Kawanis during their Tuesday morning breakfast meeting.
On a side note, after all the arguing between the 7 adults packed into the poorly decorated "No Ragrets" team car, they won the 2016 Road Rally!
The winning team members included: Jason Smith - Expert Driver, Holly Smith - Navigator, Kathy Haungs - Clue Reader and Drill Sargent, Eric Pfeifer - Designated Writer and Joke Teller, Jimmy Fay - Entertainment Coordinator and Official Timer, Jeff Haungs - Puzzle Master & Newspaper Reader, and Mary Ellen Pfeifer - Goodie Bag Keeper & Clue Hunter. It was a lucky day for the "No Ragrets" team, as they took FIRST PLACE in the 2016 Rally Prize. "No Ragrets", not even one letter! Okay maybe one letter...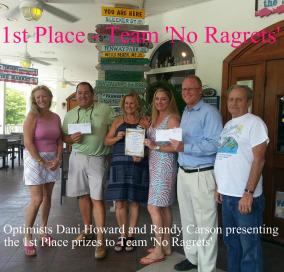 If you would like to learn more about the Optimists visit: sancapoptimist.org
If you would like to learn more about the Kiwanians visit: Sanibel-Captiva Kiwanis Club on Facebook