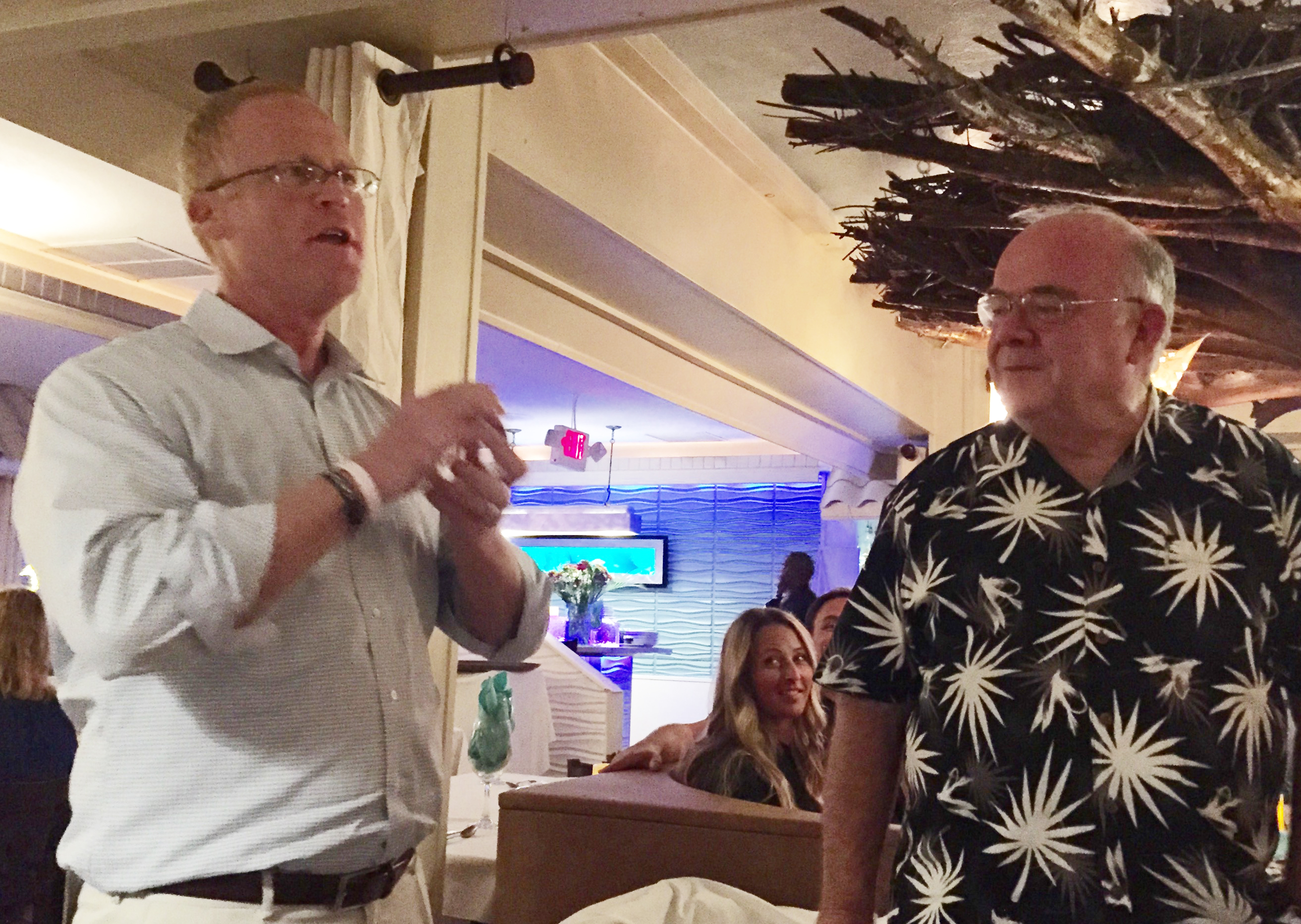 The Starfish Grill recently hosted the Kiwanis Fall dinner. While Kiwanians don't typically designate this event as the initiation of their new president, it does mark the passing of the proverbial torch. Ed Ridlehoover last year's president was recognized for his service his leadership by incoming President Eric Pfeifer.
Dedicated to service and community support, Kiwanis has been led by many wonderful community members. Going back in time from 2015 to 1973, past Kiwanis presidents include: Ed Ridlehoover, Les Boyle, Jonathan Tongyai, Pete Bender, John Morse (2 years), Mark Tesoro, Allan Marcus, Dave Bunch, Joel Soobitsky, Mike Robison, Don Czech, Stan Kucaba, Bill Traum, Beary May, Rob Robison, Bill Register, Les Delorimier, Craig Albert, Bob Sandin, Bob Fuhler, Tracy Walters, Jim Jones, Richard Calabrese, Andy Romano, Joe Pulitano, Joe Burns, Larry Thomas, Bill Brott, John Friedlund, Bill Boswell, John Collucci, Tom Uhler, Ron G. Weaver, Harry Kair, Curt Reinhardt, Robert Shakespeare, Richard Muench, Keith Trowbridge, Fred Fox, Stephen Reynolds and Dick Brodeur.
If you love to help others, cook meatballs & pasta, park cars, light luminaries, go on Santa Runs, sing off key, listen to corny jokes or just eat breakfast with a great group of people, the Sanibel Captiva Kiwanis Club is where belong. However "beware of making too much eye contact, or you just might end up on the board as well" joked current president Eric Pfeifer. If you would like to learn more about Kiwanis and their mission in our community, set your alarm Tuesday mornings and join them for a 7 am breakfast currently held at the Sanibel Captiva Association of Realtors Office located at 2353 Periwinkle Way #201.
Learn More About Sanibel & Captiva Civic Clubs and Organizations