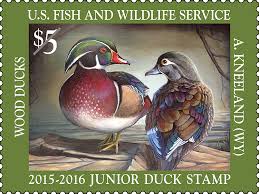 Each year the National Junior Duck Stamp Contest occurs with all submissions on display and judging at the J.N. Ding Darling Wildlife Center on Sanibel Island.
This prestigious event was started by Jaye Boswell, a Sanibel artist, resident and retired school teacher. To enter, children must be kindergarten through 12th grade and attend a public, private or homeschool in the United State. They are encouraged to display their knowledge of a North American water bird species through drawing or writing.
Submissions must be postmarked by March 15th to be entered. The best of show goes on display at the Ding Darling Nature Center for judging.
Learn more about the National Junior Duck Stamp Contest
FUN FACT: In 2015, SCCF (Sanibel Captiva Conservation Foundation) awarded the "Brush of Excellence" award to Jaye Boswell in large part for her efforts in starting the National Junior Duck Stamp Program.