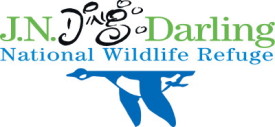 Most visits to Sanibel Island are not complete without a visit to the J.N. Ding Darling National Wildlife Refuge. Jay Norwood Darling was an avid hunter, environmentalist and political cartoonist. His efforts to block the sale of refuge lands led to developers triggered President Harry S. Truman to create the Sanibel National Wildlife Refuge in 1945. The refuge was renamed in his honor in 1967. Today the Ding Darling Wildlife Society encompasses a group of wildlife enthusiasts are still actively support the Refuge.
Wildlife Drive is open every day except Fridays. The Indigo Trail, the Bailey Tract are open every day from sunrise to sunset. The Visitor and Education Center is open every day beginning at 9:00am. For more information call: 239-472-1100. Did you know that the Wildlife Refuge on Sanibel is managed as part of the larger J.N. "Ding Darling National Wildlife Refuge Complex that incorporates about 8,000 total acres and includes: a larger Refuge Complex: Caloosahatchee National Wildlife Refuge, The Matlacha Pass National Wildlife Refuge, Pine Island National Wildlife Refuge, and Island Bay National Wildlife Refuge.
When visting the refuge keep in mind that Low Tide offers some of the best wildlife viewing. Also keep in mind that the majority of lands in the refuge consist of nesting and roosting islands making these areas some of the best bird watching. On any given day, photographers and bird watchers and nature enthusiasts can be found on refuge grounds enjoying nature as it unfolds.
Sanibel and Captiva Islands are home to over 254 species of birds 35 species of mammals, several reptiles including American Alligators and American Crocodiles. From the splendidly colored Roseate Spoonbill, to the Soaring Bald Eagles or migratory White Pelicans, these lands are some of the best bird watching around. Our islands are also home to many threatened and endangered species and species of special concern including Loggerhead Sea Turtles, Smalltooth Sawfish, West Indian Manatees, Wood Storks, Sanibel Island Rice Rat, Gopher Tortoise, Snowy Plovers and Burrowing Owls.
Ding Darling Yearly Events Include:
Ding Darling Annual Trailgate Party
Learn more about Sanibel and Captiva Island Non-Profit Organizations and Pfeifer Realty Group's Ongoing Community Support.