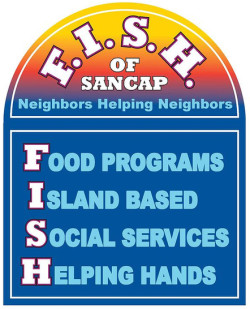 F.I.S.H. stands for Friends in Service Here. FISH offers a Walk-In Center for local island residents in need. They work with several Lee County United Way Agencies to provide Food Programs, Social Services and Helping Hands.
Pfeifer Realty Group has had the honor of sharing our parking lot with F.I.S.H. from April of 2008 when we opened our Sanibel Real Estate Brokerage until June of 2015 when they moved to their new location at 2430 Periwinkle Way. We have been able to see those in need as they come in and out of the their office as well as interact with their staff and volunteers.
Their caring staff, experienced Board of Directors and countless volunteers impact the lives of many here in our community. In 2014 F.I.S.H. worked with 1,737 individuals in need. Their volunteers provided 6,598 hours of service and drove 28,700 miles to support the needs of others.
Pfeifer Realty Group has been proud supporter F.I.S.H. for many years. For more information on how you can help, give them a call today: 239-472-0404. Here are F.I.S.H. fundraising events to put on your calendar:
F.I.S.H. 10 K Run on Sanibel Island Go FISH Annual Fundraiser Dinner and Live Auction
Learn more about Sanibel and Captiva Island Non-Profit Organizations and Pfeifer Realty Group's Ongoing Community Support.