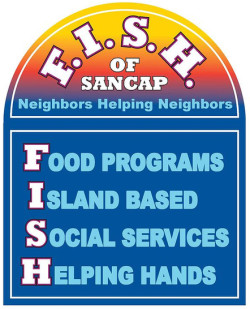 Please join Pfeifer Realty Group in supporting Friends in Service Here. Neighbors helping neighbors is what this organization represents.
Your continued support of the Sanibel and Captiva communities makes all the difference in the lives of our island neighbors. Thanks to you, our island youth were able to attend educational field trips and summer camps. Thanks to you, our island seniors received the healthcare products and care they needed. Thanks to you, F.I.S.H. continues to offer over 40 programs and services. Thanks to your generous support of F.I.S.H., our community is a better place!
F.I.S.H. Programs Include:
Adult Continuing Education
Backpack Program for Kids
Community Education Seminars
Emergency Financial Assistance for Dental, Medical, Rent & Utilities
Food Pantry a Year Round Need
Healthcare and Medical Equipment
Hurricane Assistance
Meals-By-F.I.S.H. a Year Round Need
Youth Scholarships for Field Trips and Summer Camp Programs
On March 4th 2018 F.I.S.H. had their 5th Annual Go FISH Fundraiser. The theme once again tied into the Sanibel School's Performing Arts Group with the Lion King theme. This year Sherry and Doug Gentry were the Honorary Chairs.
Auction Items Included:
Gasparilla Inn Food and Wine Weekend with Transportation by Captiva Cruises
Jim Sprankle Hand Carved Lazy Flamingo opening bid $5,000
Patty Sprankle Set of 6 Hand-painted Dessert Plates, opening bid $500
Narrow Cuff Bracelet designed by I. Reiss donated by Congress Jewelers
Golden Ocala Golf and Equestrian Club 3 Night Stay donated by Royal Shell
Private Sunset Dolphin Adventures in Paradise Cruise for 20 Catered by Baileys Servers: Nicole McHale & Eric Pfeifer
The Circle of Wine Collection
Dinner for 8 in the home of Dick and Sheridan Snell with Sanctuary Executive Chef Joe Albertelli
2017 F.I.S.H. By the Numbers: There was a 43% increase in demand for services over 2016. More than 760 households visited the food pantry using more than 151,000 pounds of food. F.I.S.H. volunteers donated over 6,150 hours of service, drove almost 34,000 miles to serve clients, fielded over 1,300 inbound service calls, helped 562 hurricane Irma related needs. The staff helped over 600 Emergency Financial cases, managed over 1,864 total cases and educated 1732 individuals with F.I.S.H. workshops. Whew, that's a lot of work and it's the reason why so many support this local non-profit.
​
In 2017, the Sanctuary Golf Club was magically transformed as the 4th Annual Go F.I.S.H.! Celebration took guests to a 'Wizard Of Oz' themed event. Enjoy an evening of entertainment including the popular "Live Auction" antics of Nicole Decker-McHale aka "Glenda the Good Witch" and Eric Pfeifer the "Mayor of Munchkinland" as they always have surprises in store for the all the attendees. Eric and Nicole have enjoyed helping F.I.S.H. and other non-profits raise money by donating time and talent to bring fun to the process and entertainment with each live auction item. Maggi Feiner, Executive Director of FISH only asks one favor of Eric, "what ever you do is okay with me, dress funny, act funny, just don't tell any jokes". Guests were also entertained by The Sanibel School Performing Arts Group a special presentation of the music and costumes of their Wizard of Oz production!
Pictured below: Eric Pfeifer, Nicole McHale and Mary Ellen Pfeifer.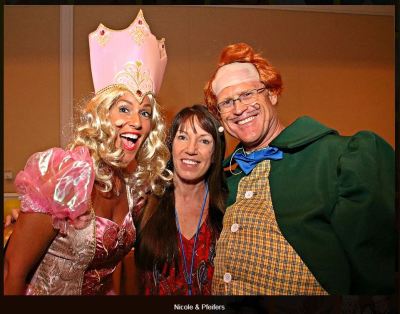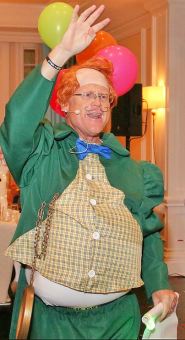 F.I.S.H. Volunteers and Staff 2016 Summary of Results:
14,399 service requests were answered by F.I.S.H. for 2,772 individuals
502 families visited the F.I.S.H. Food Pantry, utilizing 131,625 pounds of food
F.I.S.H. volunteers delivered 2,633 meals to our island neighbors through Meals-by-F.I.S.H. Program
1,063 backpacks containing weekend food were distributed to our island youth
F.I.S.H. financially assisted our island youth to attend 703 instances of the After School Program
F.I.S.H. volunteers provided 7,662 hours of service on behalf of F.I.S.H.
F.I.S.H. volunteers made 1,345 reassurance calls to our island neighbors
F.I.S.H. volunteers drove 32,184 miles on behalf of F.I.S.H.
102 households received a F.I.S.H. Hurricane Preparedness Resource Packet
F.I.S.H. Social Workers provided 366 instances of Emergency Financial Assistance
F.I.S.H. Social Workers provided 1,104 instances of Case Management
Learn more about F.I.S.H. of Sanibel & Captiva Islands View All Sanibel and Captiva Events.