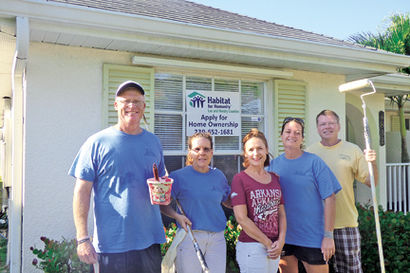 "Realtors Make a Difference" is a motto that Eric Pfeifer hopes will last past his tenure as the President of the Sanibel Captiva Islands Association of Realtors. Community service always makes a difference and Realtors as a group are privileged to sell a wonderful lifestyle here in Southwest Florida. With this privilege comes an obligation in Pfeifer's opinion to serve that community. Who better to step up, lend a hand, roll up their sleeves and get involved that your neighborhood Realtor?
The first Habitat for Humanity build the association participated in was held in San Carlos this past May for a single mother of four children. Pfeifer said they painted the inside and outside of the home with the family.
Savanna Melton, community outreach specialist for the Habitat for Humanity of Lee and Hendry Counties, said the Sanibel realtors are very hardworking and dedicated to the Habitat mission.
"We are thankful for the partnership of the Sanibel and Captiva Island Association of Realtors," Melton said. "They have displayed an immense amount of passion and dedication to the Habitat mission and faithfully returned to the worksite to help build homes, communities and hope. We look forward to continuing to work with them for years to come."
Special thanks to Rob Lisenbee from Sanibel's Bank of the Islands, Connie Davidson - Interior Design Specialist, and Pfeifer Realtors Becky Mulka & Cathie Lewis for their hard work and dedication.
Realtors will continue to make a difference in our community. We hope you will recognize them for their handwork and dedication to all members of our community.