I recently found this photo and it reminds me of how some people make a big difference in the lives of many! When I agreed to help Island's Night 2010 by coordinating the Little League players to come in uniform and sing the National Anthem on the field, I had no idea it would be the last for Mr. Bailey.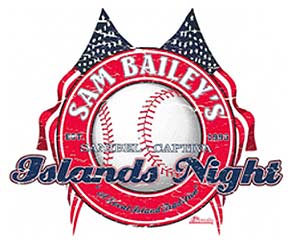 What a wonderful, generous, hard workding role model Sam was and will always be for those who had the privlege of meeting him.
I met Sam on the Sanibel ball fields many years ago when I came to play in the "Old Timers" pick up game. It was my first time playing with this group and Sam looked in my direction and said "Hey Red, when I hit the ball you run". What a great way to make me feel like part of the team.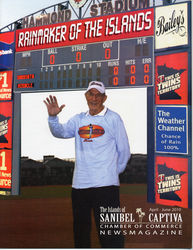 My wife Mary Ellen also had the privilege of working with Sam Bailey during the filming of
Sand Bars to Sanibel
by local film maker Rusty Farst. Sam shared many Sanibel tales with her as he reflected on how many areas on Sanibel got their names and shared a story about his father Mr. Frank Bailey and how he moved many of the Rocks from the beaches off of West Gulf Drive to an East End location in the hopes of building a small golf park. According the Sam, those rocks are still on Sanibel's East End "I imagine they have grown over with vegetation by now and would be hard to find" said Sam.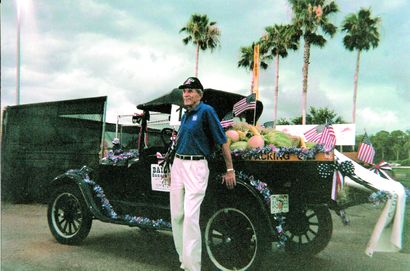 Every year, Baileys General Store gathers all the graduating High School Seniors and awards them with good old fashioned advise and a nice gift for their accomplishments. When Sam asked a friend's daughter where she planned to go to College, he asked her to see him afterwards. He scribbled on a small piece of paper, handed her the note and said "If you ever get into any trouble up there, give this man a call and tell him Sam Bailey gave you his number." She didn't know at the time who's number he'd given her until she showed her mom and dad. Sam Bailey had given her the direct number for the President of Tampa University, a personal friend of his.
Sam Bailey graduated from Tampa University and lettered in both Football and Baseball while there.
Fun Fact: Islanders will tell you that it almost always rains on Islands Night. So much so, that the pre-game floats now come equipped with umbrellas. As you can see on the marquee behind Mr. Bailey it reads: "Rainmaker of the Islands".