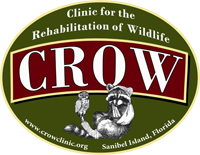 CROW stands for the Clinic for the Rehabilitation of Wildlife. They were formed in the 1968 by a group of volunteers prompted by Sanibel resident Shirley Walter when she wanted to help an injured royal tern that had been hit by a car. During their first year, 500 calls to report injured animals were addressed. During their first few years, Dr. Phyllis Douglas and Shirley Walter along with many local volunteers were pioneers in the emerging field of wildlife medicine.
Today CROW cares for more than 4,000 patients and a few hundred orphaned patients. While most of CROW's support comes from the residents of Sanibel and Captiva Islands, the majority of their wildlife patients come from other areas. Their mission is saving wildlife through care, education and collaboration. Their work is never ending and none of their patients have health insurance.
Be sure to visit the CROW Visitor Education Center. They are open Monday - Friday from 10am to 4pm and are open on Saturday's in season (Dec. 15th - April 3oth). They offer Wonders of Wildlife Programs twice daily in season at 11am and 2pm and only at 11am during the Summer.
Learn More About CROW when you watch this one minute video...
View all upcoming events on Sanibel & Captiva Islands and Mark Your Calendar!
Learn more about Sanibel and Captiva Island Non-Profit Organizations and Pfeifer Realty Group's Ongoing Community Support.