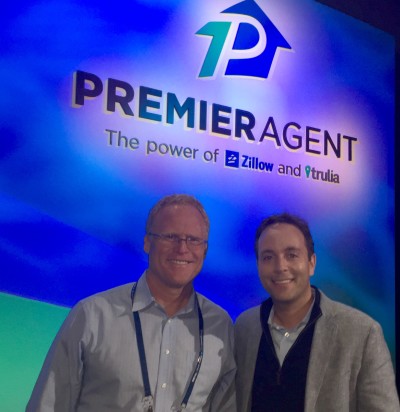 Pfeifer Realty Group has marketed aggressively on Zillow since they begin to dominate the search engine results for real estate searches.
Photo: Eric Pfeifer & Zillow CEO Spencer Rascoff
In January 2016, Eric and Mary Ellen Pfeifer were asked to join a group of Agents nationwide that Zillow identified as their top producers. Zillow's first Tomorrow Summit meeting was held in Miami two months later.
As part of Zillow's Premiere Agent Elite Team of only 265 Real Estate agents nationwide, we have access to new products in beta testing and feedback to their R & D team. We also participaten in live webinar chats with top Zillow executives. August 9th we hopped on a conference call with Zillow's CEO to discuss their most recent acquisition of Bridge Interactive Group and how it will affect our productivity.
We met with Zillow's Top Executives again October 2016 during their Premier Agent Forum in Las Vegas. Our access to Zillow CEO Spencer Rascoff, COO Greg Schwartz, The R & D Department, Beta Testing Product Team, Share of Voice Advertising, Enhanced Video Technology, and their newly unveiled Facebook merger project will continue to benefit our clients and optimize Zillow for our market. More importantly, we have access to 265 of the nation's top producing Brokers and Realtors within an interactive App allowing us to navigate market changes efficiently and effectively as we network with top producers across the country.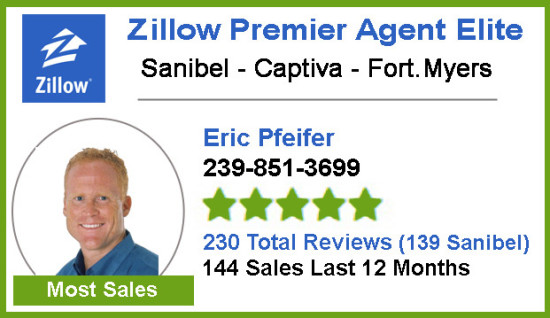 Why is this important?
By January 2016, the word "zillow" was searched more frequently than the phrase "real estate". Currently 2 out of 3 buyers shopping for real estate are using one of Zillow brands and 4 out of 5 people shopping for real estate on a mobile device are using one of Zillow's brands.
Understanding Buyer Behavior and reacting quickly and decisively to changes ensures that our listings are easily found and we can be contacted immediately. As long as buyer's rely on Zillow for real estate information, you can count on us being on the forefront of their technology use and partnership.
We have partnered with Zillow and each October we meet with Zillow in person to interact with their Research and Development team, weigh in on new features, and look forward to providing the best customer service possible to improve the Buyer and Seller's experience. Zillow is on our team. Together we aim to provide the best client experience possible.
Learn about Eric's Move to Sanibel