We harness the power of Zillow!

Pfeifer Realty Group has marketed aggressively on Zillow since Zillow begin in 2003. As Zillow grew, Pfeifer and his team grew with them.
"There are so many real estate portals that spring up over the years wanting our advertising dollars. Early on, it was obvious to us that Zillow's priorities aligned with ours. Zillow's focus on the buyer experience is the reason for their success and we are happy to be a part of the Zillow family" said Pfeifer.
Zillow asked Eric Pfeifer to join a select group of Florida's Top Producers for their first ever "Tomorrow Summit" held at the Thompson Hotel on Miami Beach in January 2016. Only 50 of Florida's Realtors were asked to meet with Zillow Executives as they discussed the future of Zillow and how to involve their top producers.
Photo: Eric Pfeifer, Broker Pfeifer Realty & Spencer Rascoff, Zillow CEO for 9 years until he was replaced by co-founder Rich Barton on February 21st, 2019.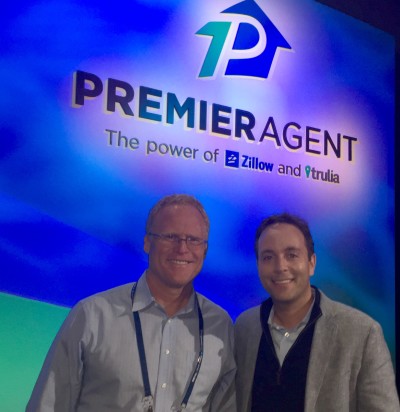 Zillow invited the Pfeifer Team to join their closed Premier Agent Elite Facebook Group where the top Brokers and Teams in the United States have unlimited access to other top producing teams across the country as well as all Zillow Executives including their CEO, CMO, CFO, R & D, as well as founder Rich Barton. The Pfeifer Team has enjoyed access to new products in Zillow's beta testing department and early notification of new product ideas, and launch dates. Our webinar chats in real time, allow us to discuss with Zillow how recent acquisitions and product launches are working in the field and which of their new features need improvement. Having access to 265 of the nation's top producing Brokers and Realtors within an interactive App allows us to navigate market changes efficiently and effectively as we network with top producers nationwide.
Eric Pfeifer's Team meets with Zillow's Top Executives and Product Managers every October during the Zillow Premier Agent Forum in Las Vegas. These meetings energize and arm our team with the tools necessary to better serve our clients. We thank Zillow CEO Spencer Rascoff & COO Greg Schwartz for having faith in the Pfeifer Team and including us in the Zillow Family. Having met Rich Barton (Zillow Co-founder and creator of Expedia and Glass Door) in 2016, we believe that Barton as the new CEO will lead Zillow well into the future. Each year Zillow challenges our team to be the best real estate team we can. Zillow's transparency has allowed us to interact fluidly with so many of their departments including: Research & Development, Beta Testing Product Team, Share of Voice Advertising, Enhanced Video Technology, Facebook Merger, Premier Agent Direct, Instant "Zillow Offers" and Concierge Department continues to benefit our clients and optimize our buyers and sellers' experience with Zillow in our market.
Why is this important? By January 2016, the word "zillow" was searched more frequently than the phrase "real estate". Currently 2 out of 3 buyers shopping for real estate are using one of Zillow brands and 4 out of 5 people shopping for real estate on a mobile device are using one of Zillow's brands.
Understanding Buyer Behavior and reacting quickly and decisively to changes ensures that our listings are easily found and we can be contacted immediately. As long as buyer's rely on Zillow for real estate information, you can count on us being on the forefront of their technology use and partnership.
We have partnered with Zillow and each October we meet with Zillow in person to interact with their Research and Development team, weigh in on new features, and look forward to providing the best customer service possible to improve the Buyer and Seller's experience. Zillow is on our team. Together we aim to provide the best client experience possible.
Prior to the 2018 Premier Agent Summit, Zillow flew our team representative to a special meeting held in Chicago where they wanted our feedback on the new features they would unveil to all agents nationwide during this Summit. Once in Chicago, Zillow announced that they have been conducting client surveys to determine the best agents nationwide based on Client Satisfaction. The Eric Pfeifer Team was in the top 2% of all agents in the country based on Client Feedback Surveys conducted by Zillow. This will be an ongoing measure incorporated by Zillow to ensure that they have identified the best Real Estate Professionals in the United States.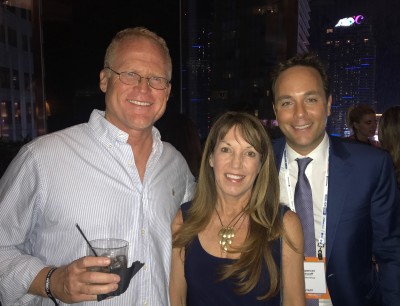 Pictured: Eric & Mary Ellen Pfeifer with Zillow CEO Spencer Rascoff, at the Zillow Premier Agent Summit, October 28th 2018 at the Aria Resort in Las Vegas.
Learn about Eric's Move to Sanibel