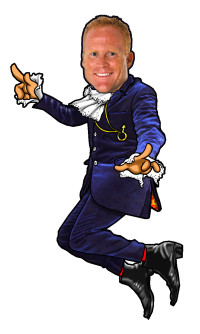 Dancing with the Sanibel Stars - Eric Pfeifer?
Mark your calendar for January 22nd, 2010 to attend "Dancing With the Sanibel Stars". Yes, both photos for this article have been graphically altered for maximum impact...
Last year this event was grand success raising much needed funds for the improvement of Sanibel's Community House. Please take a moment to find a ballot box located around Sanibel Island and vote for your favorite dancer. Eric Pfeifer was asked to be a dancer and reluctantly agreed. Eric is not, has not and will not be known for his outstanding dancing abilities. That is what makes this unique fundraiser such a success. Dancers are paired with professionals from Fred Astaire Dance Studio where they undergo hours of rigorous training in technique and choreography.
Pfeifer Realty Group's Continued Community Service - LEARN MORE