A Brief History of South Seas Resort:
The north tip of Captiva Island where South Seas Resort is located was first homesteaded in 1898 by George Washington Carter. He and his wife and two daughters fished and planted grapefruit trees on the 160 acres. In 1899 William Langley "Tobe" Bryant homesteaded 160 acres located to the south and married one of George Washington Carter's daughters. They grew many crops on their land to the south including sugar cane and vegetables. Both Carter and Bryant families were hit hard by the hurricane of 1921 which destroyed their crops and the soil due to the intrusion of salt water. While many members of both families left after the hurricane, a few decedents of Carter's family still call Captiva home.
South Seas Resort Property Options Include:
Two years after the hurricane devastation, Clarence and Rosamond Chadwick traveled to Captiva in search of a warm climate to ease his chronic arthritis. The Chadwicks bought both parcels from the Bryant and Carter family and began to change the function of the property. They planted a Key Lime Plantation on the property and he even developed a salt resistant lime "Chad Lime". With a plantation came the need for workers and housing in the form of cottages. He also built a large manor house with an enclosed salt water pool to ease his arthritic symptoms. After planting more Key Lime trees at Wulfert Point as well as land on Pine Island, Chadwick became the largest supplier of Key Limes in the world.
It wasn't until Chadwick turned over the management of the plantation to family members that it was rented to the first vacation travelers. They placed travelers in the cottages once used to house employees.
In 1942 two men traveled to the area on a fishing trip and fell in love with Chadwick's plantation. They were Bill Hunt and Wesley Kincaid. They purchased the property under the name "American Hotel Company" and turned it into a fishing camp calling it "South Seas Plantation". They remodeled the existing employee cottages, turned the warehouse into a restaurant and management office, and added 15 guest suites to Chadwicks Manor House.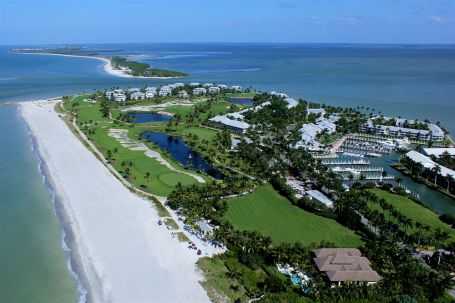 Fast forward to the early 60s when Wally Watts, an RCA Executive fell in love with the property, formed the Captiva Island Company and purchased South Seas Plantation in 1961 for only $225,000. With the help of Captiva resident Paul Stahlin and Sanibel resident Ralph Woodring the property was completely transformed into the resort more recognizable today. They dredged a marina and a channel to the intercostal waterway, they constructed the 9 hole golf course and transformed the housing with the addition of the Plantation House and employee housing.
By 1963 the resort offered less than 40 guest rooms, 1963. It was now easily accessible and offered about forty guest- rooms, tennis courts, golf and an onsite restaurant. By 1966 $29 would buy a two night stay in the Plantation House complete with unlimited Golf and a Golf Cart.
When Wally Watts became ill his family put South Seas Plantation on the market in 1972. A young investor Bob Taylor had recently formed Mariner Properties with several investors including Allen Ten Broek. They had just finished two major Sanibel developments: Gulf Pines and Sanibel Moorings. Mariner Properties purchased South Seas in 1972 for less than $3,500,000. Having no hotel management experience, they hired Ray Pavelka and Scott Siler to help with the management and renovations. In only 90 days, the group built a swimming pool, remodeled and enlarged the restaurant, built an additional 30 guest rooms and remodeled all existing properties in time to open by Christmas of 1972. Two years later, the energy crisis of 1974 hit creating long gas lines across the country. They had just built a gas station and offered all resort guests a free tank of gas. In 1975 Mariner Properties successfully changed the Lee County zoning of their property from 3,900 units to only 912 units. They added the Marina Villas, and offered to guarantee rentals to ensure their investors income. In 1977 they increased the marina capacity, added more tennis courts, meeting rooms, built time share and whole share properties and constructed Chadwicks Restaurant. After another 16 Million dollar expansion and the addition of Chadwick's Square, the resort had grown to 884 units by the early 1990s. By then, they also owned and operated the Sundial Resort, The Dunes Golf and Tennis Club, Sanibel Inn, and the Song of the Sea.
By the mid 1990's large public companies entered the Resort market with deep pockets and large advertising budgets that could not be matched by Mariner Properties. In 1998 all their properties were sold to MeriStar, a real estate investment trust based in Washington D.C. MeriStar invested an additional $15 million dollars into resort enhancements and changed the resort name to South Seas dropping the name "Plantation". MeriStar merged with Interstate Hotels in 2002.
In 2004 Hurricane Charlie severely damaged the resort causing them to close 18 months for repairs and renovations. They opened slowly in March 2006 showcasing a brand new pool area with three pools, new restaurants, water sports complex, and more.
South Seas Resort offers guests 2.5 miles of beautiful beaches with stunning sunsets nightly, 9 hole golf course, tennis, full service spa and water sports and activities. The resort offers a blend of hotel rooms, timeshares, and single ownership condominiums, beach villas, marina villas, tennis villas, and private beach homes for rental through the resort.