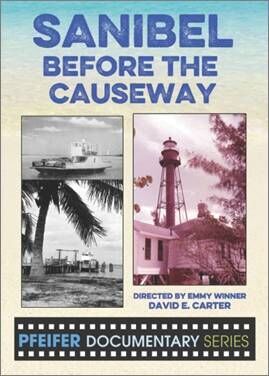 This show sold out three events in 2016 and will be three more times starting in January 2017 at the Sanibel Community House. A private showing was also held at The Woodlands at Shell Point on September 24th, 2016.
LOCATION: Sanibel Community House TICKET LOCATIONS: Bailey's, Sanibel Community House ALL PROCEEDS BENEFIT: Sanibel Community House
The feature-length film includes vintage home movie clips from the 1930s through the early 1960s, and shows Sanibel the way it was before the causeway opened in 1963.
This is the third Sanibel documentary sponsored by Pfeifer Realty Group designed to support island non-profits. Previous films "Growing Up on Sanibel" and "Seven Sanibel Artists" generated more than $25,000 in community support donations. Pfeifer Realty Group has designated the Community House as the only recipient of this film's proceeds, because movie clips like these were often shown at the Community House on Sanibel before the Causeway.
"When I first saw the old film footage, it was like traveling back in time," Eric Pfeifer said. "Imagine, seeing cars getting on the ferry boat, seeing the mail boat coming to the island, and seeing airplanes landing at Sanibel's airport. That's just a small sample of what is included in this film."
ENJOY THE PREVIEW BELOW:
The old films show aerial footage of Sanibel back then, with views of what was called "the Prairie" and "the Wetlands." In the 1950s, Sanibel's population was well under 400, and the films show many scenes of the island that are hard to imagine today.
Narrated by David Flory, the film also features guest commentary by six pre-causewayislanders: Mike Billheimer, Deb Gleason, Bella Kontinos, Charles LeBuff, Jim Pickens, and Bob Sabatino.
The documentary series is a collaboration between Pfeifer Realty Group and 7-time Emmy winner David E. Carter, a year-round Sanibel resident.
All proceeds from this event will benefit the Sanibel Community House as they work to reach their goal to remodel our gathering place.
Pfeifer said, "We chose the Sanibel Community House to show this film since our "unknown filmmaker" who shot these films showed them there, 50-60 years ago. We were shocked when both shows sold out so quickly! We expect that this next event will be sold out too, so I strongly recommend that people buy their tickets soon."