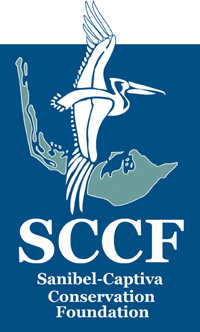 SCCF is a non-profit organization that is dedicated to the conservation of coastal habitats and aquatic resources on Sanibel and Captiva and in the surrounding watershed. On November 1st, 2018 for a second year in a row, SCCF was awarded the highest possible rating on Charity Navigator verifying that SCCF exceeds industry standards and outperforms most charities in their scope of work. Join us in supporting SCCF and congratulations to a well run organization.
SCCF's Mission Statement: "The Sanibel-Captiva Conservation Foundation is dedicated to the conservation of coastal habitats and aquatic resources on Sanibel and Captiva and in the surrounding watershed."
SCCF Encourages you to LEND YOUR VOICE! You can help SCCF fight for meaningful improvements in water quality and effective management practices. Lend your voice and help make a real difference when legislators and regulators hear from all of us.
LEND YOUR VOICE: Sign Up for SCCF Action Alerts Here
SCCF manages over 1300 acres of land on the islands (and owns an additional 500 acres on nearby Pine Island).
SCCF Actively Researches:
Seagrasses
Mangroves
Algal Blooms
Fish Populations
Shellfish Restoration (oysters)
RECON (River, Estuary and Coastal Observing Network) In Water Sensors provide real time data hourly spanning a 90 mile area. Data collected includes temperature, sensor depth, salinity, turbidity, colored dissolved organic matter, nitrate, dissolved oxygen, and chlorophyll a.
Weather Station on San-Cap Road Nature Center
SCCF Actively Educates:
Beach Walks
Trail Hikes
Boat Tours
Wading Trips
Kayak Tours
Classroom Programs
Nature Center
Touch Tank
Butterfly House
SCCF Encourages Native Plants:
Native Plant Nursery and Gift Shop – Planting for Habitat Sustainability
Native Plants for Sale
Sample Gardens to be created at the Bailey Homestead
House Calls to identify current plants and native options
SCCF Actively Manages Lands: This is a major undertaking requiring constant monitoring with 50 different parcels of land spanning over 1800 acres. The Foundation seeks to return as much natural function to the interior freshwater wetland ecosystem as possible to benefit native plants and wildlife.
SCCF Actively Studies Wildlife:
How did SCCF form and why? In the late 1950s when developments were exploding in most Florida coastal areas, Lee County set the density for Sanibel Island at 35,000 units. However the islands were hard to reach due to the lack of a causeway and lack of large amounts of drinkable water. That changed in 1963 with the building of the Sanibel Causeway and in 1966 with the creation of steady supply of drinking water produced by the Island Water Association. An organized group of nature lovers had the vision and determination to preserve the wild life and lands needed to sustain them. They were called the Ding Darling Memorial Committee and they worked tirelessly from 1962 to 1967 to help the J.N. "Ding" Darling National Wildlife Refuge acquire their lands on Sanibel Island. Once accomplished, this group turned their focus to the need for preservation and acquisition of lands outside of the Refuge for environmental protection. In 1967 this group was incorporated as the Sanibel Captiva Conservation Foundation with their mission statement: "to preserve natural resources and wildlife habitat on and around the islands of Sanibel and Captiva." One of SCCF's first land acquisitions were many parcels destined to become Sanibel Gardens.
SCCF has several events where you can support their mission. Annual Fund Raising Events Include:
For more information call SCCF directly: 239-472-2329
Learn more about Sanibel and Captiva Island Non-Profit Organizations and Pfeifer Realty Group's Ongoing Community Support.