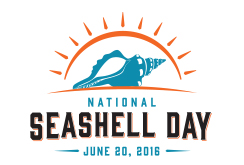 Wow, finally a day to celebrate what many of us love to collect. Shells on Sanibel Island!!
No other obsession causes people from all walks of life to stroll down an beach with their bums in the air and the hands in the sand. The Sanibel Stoop is so famous that it made the Guiness Book of World Records.
The first National Seashell Day was celebrated June 20th 2016 after the Lee County Visitors and Convention Bureau designated the day. That inaugural day began with a broadcast from the Good Morning America Show.
Our own Shell expert and fun loving Pam Rambo (iLoveShelling.com) was a major factor in bringing fun to the Shellibration! Pam even created a Shell Love Bug to mark this historic event. Yes, she covered every square inch of this car with shells.