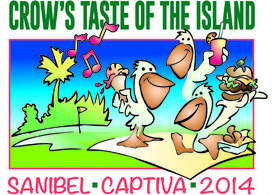 In 1981 a festival of food and fun was created to support the work done by CROW. The festival is Taste of the Islands and the event has grown more popular each year as Chefs from Sanibel & Captiva Restaurants compete with each other to win the peoples choice awards in many different food categories. This outdoor event features live music more than 20 different restaurants.
Taste of the Islands is a heavily attended yearly event and serves as one of CROW major fund raisers.
Their mission is saving wildlife through care, education and collaboration. Their work is never ending and none of their patients have health insurance.
Learn more about CROW and be sure to visit the CROW Visitor Education Center. They are open Monday - Friday from 10am to 4pm and are open on Saturday's in season (Dec. 15th - April 3oth). They offer Wonders of Wildlife Programs twice daily in season at 11am and 2pm and only at 11am during the Summer.
Learn More About CROW when you watch this one minute video...