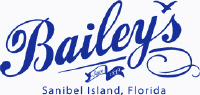 Bailey Fest is a fun day for the entire family. This years event will have all of the traditional fun including a wide variety of games for the kids, food and beverages, the crowning of Baileyfest King and Queen, mule and wagon rides, pony rides, a bounce house, incredible raffle prizes from the BCMA and lots of live entertainment.
Small town fun at it's finest. Enjoy bands, singing, dancing, food drinks and more. Islanders of all ages gather a Bailey Fest to enjoy all the events of the day. Many raffle items are available from Baileys and supporting businesses.
Eric and I had the pleasure and honor of getting to know both Sam and Francis Bailey before they passed. In 2001 when Eric walked onto the ball field to play with the older men's league, Sam looked at him and said "Hey Red, when I hit the ball, you're going to run for me". That was how it began. A few years later, I was asked to "act" in the film Sandbars to Sanibel - Pioneering an Island by film producer Rusty Farst. Sam and Francis Bailey were a big part of this film and shared their thoughts on Sanibel and the way it was, way back before the causeway was ever built. It is rare to live in a place where the pioneers walked among us for many years.