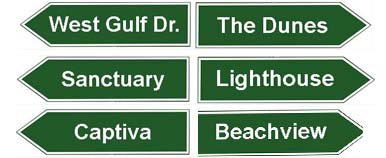 Ever wish you could have an expert educate you about Sanibel and Captiva Islands without pressuring you to look at specific properties to buy?
We understand that knowing if an area suits your lifestyle can be more important than what the homes look like as you begin searching for real estate. For lack of a better term, our "Nickel Tours" do just this. Our agents know the islands, the neighborhoods, their amenities, price ranges and the lifestyles they offer. We encourage you to stop in and learn about the area first.
Many of our buyers come to us knowing that they want to purchase a home in Southwest Florida, but have not figured out just where. There are major differences between the cities and towns along our the Gulf coast that require time to experience and understand.
We are always happy to help you better understand our islands and the lifestyle and amenities they offer. Stop by anytime.
ENJOY THIS SHORT FILM CONTRASTING TWO SIMILAR CITIES: Manhattan vs. Sanibel:
REQUEST the Sanibel Buyer's Guide
SEARCH All Properties for Sale
VIEW All Sales Year To Date
LEARN About Our Free Services